It's time to P-A-R-T-Y!
Join us this coming

Saturday, September 24, at 4:00PM


for a Zumba Dance Party!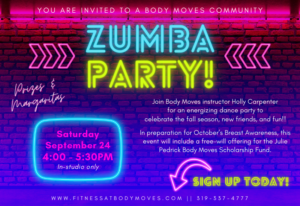 ZUMBA DANCE PARTY
Saturday, September 24
4:00-5:30PM
FREE Event!!
Why Zumba? Here are some quick reasons:
Dancing is fun! If you don't enjoy exercise, you won't stick with it.
A healthy heart. Heart disease is the number one killer of men and women. Take steps to keep yours as healthy as possible.
Improves cognitive function. Footwork in Zumba helps train hand-eye coordination and right-left brain activity. When you practice familiar moves, it also increases neuromuscular memory.
Greater coordination and mobility. Zumba helps improve your balance, coordination, and posture!
Mood boost!  Dancing increases the levels of serotonin in your body. Serotonin, a "feel-good" chemical,  regulates your mood, helping your feel more focused, emotionally stable, happier, and calmer.
Social interaction. Come "find your tribe" within the Body Moves community.
Confidence booster. As you dance and see the benefits listed above in your own life, you'll find it to be a tremendous boost for your confidence. The first step is the hardest!! Don't let that stop you! Push through because you won't regret it!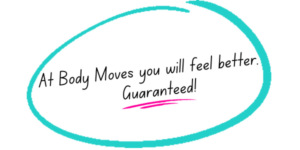 Click HERE to sign up!
See you there!