We are Your Wellness Center
for a healthy, balanced, fulfilling lifestyle!
Our LIVE WELL events and programs bring you . . .
Knowledge
Confidence
New Skills
Social Support
Scroll down for our upcoming LIVE WELL events. (You can learn More about fitness and wellness at About Us – About the Studio.)
Events are offered in varying modes — In-studio, Zoom, and Hybrid (blend of In-studio and Zoom) — as pertains to individual events. In many cases, pre-registration is needed for us to bring you the best in programming. Register through the link for each event below, or call the studio at 319-337-4777, or email us at info@fitnessatbodymoves.com.
Want to see snapshots of a sampling of the variety of LIVE WELL events we have hosted in the past? Just scroll down past our upcoming events.
Coming in March…
RENEWAL YOGA & GONG BATH
Friday, March 3
4:00-5:00PM
Tuition:  $25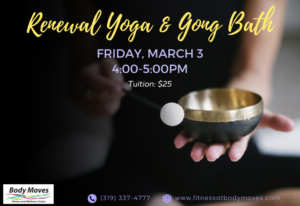 Find renewal at the end of the week participating in a Friday evening one-hour Yoga & Gong Bath with yoga instructor Barb Sorenson. Bring increased order and harmony to your mind, emotions, and body through regulated breathing and movement.
The session will end with the harmonious vibrations of the gong bath.
WORKSHOP:
Move Your Body, Train Your Brain
Friday's, March 17 & 24
1:00 – 2:00PM
Tuition: $60
**Minimum of 10 participants required**
Special EARLY BIRD Pricing: $50
if signed up before March 14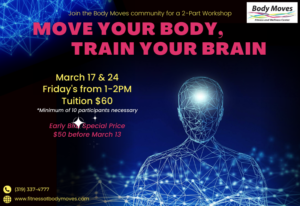 The brain is continually altering its structure, cell number, connectivity, and chemistry as a direct result of everything you do, experience,
think, and feel. As such, we have the ability to be the architects and builders of our own minds if only we take advantage of it!
Join FAI Certified Brain Health Trainer Holly Carpenter for a 2-part workshop to learn how to maximize your brain and body health through variation and consistency in exercise, effort, and environment.
For more information, contact the studio by calling (319) 337-4777 or emailing fitnessatbodymoves@gmail.com.
BLUE ZONES 6-WEEK CHALLENGE
Thursday's beginning March 30


In-studio

at 1:30PM
Tuition $119
Zoom option

at 12:00PM
Tuition $135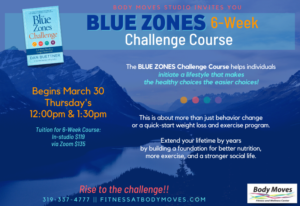 Join the Body Moves community to gain knowledge and expertise that can extend your lifetime by years on a foundation of better nutrition, more exercise, and a stronger social life. The BLUE ZONES 6-Week Challenge Course helps individuals initiate a lifestyle that makes the healthy choices the easier choices!
Led by University of Iowa professor emerita Beth Pelton, this course is about more than just behavior change or a quick-start weight loss/exercise program. It is a means to help you chart and change your life now and for years to come!! With easy-to-use worksheets and recipes along with other practical steps and lifestyle changes, you will begin to see tangible results in your weight, well-being, and general health.
An 11-month sustainability calendar and group accountability will guide and encourage you to continue to build upon this new foundation. For more information, contact the studio by calling (319) 337-4777 or emailing fitnessatbodymoves@gmail.com.
Upcoming Events…
BODY MOVES 10th ANNIVERSARY CELEBRATION
Begins the second full-week of April
Check back for more details!
Body Moves has reached double digits!!
Celebrate 10 years of fitness and wellness with us
through special events and activities (many FREE!) in March and April.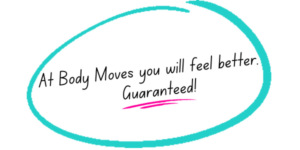 ---
Previously at Body Moves . . .
Do you see someone you know in these snapshots, maybe YOU?
We want YOU to be a part of our LIVE WELL Body Moves community!!