We are Your Wellness Center
for a healthy, balanced, fulfilling lifestyle!
Our LIVE WELL events and programs bring you . . .
Knowledge
Confidence
New Skills
Social Support
Scroll down for our upcoming LIVE WELL events. (You can learn More about fitness and wellness at About Us – About the Studio.)
Events are offered in varying modes — In-studio, Zoom, and Hybrid (blend of In-studio and Zoom) — as pertains to individual events. In many cases, pre-registration is needed for us to bring you the best in programming. Register through the link for each event below, or call the studio at 319-337-4777, or email us at info@fitnessatbodymoves.com.
Want to see snapshots of a sampling of the variety of LIVE WELL events we have hosted in the past? Just scroll down past our upcoming events.
This

month

…
HOLIDAY DISHES WITH WHOLE-FOOD FLAIR
Saturday, December 3
11:30AM – 1:00PM
Tuition:  $25 (includes food tasting lunch)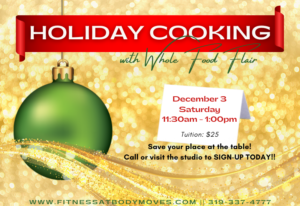 The winter holiday season will soon be here, and with it come times of entertaining family and friends. For some, it also brings the battle of the bulge
What if the holidays didn't mean weight gain?
What if you had a healthy options to serve ones you love?
During this in-studio workshop, you will learn how to prepare foods with less oil, sugar, salt and ultra-processed ingredients. This workshop includes food prep demonstration, short-cuts, tastings of appetizer, and soup, salad, main dish, side, and dessert recipes.
JUGGLING CLASS
Saturday, December 10
4:00- 5:00PM
Tuition:  $25 (includes set of juggling balls)
Whether you've juggled before or you are brand new to it, this workshop will help improve spatial awareness, eye/hand coordination, dual-tasking and more! In addition to being GOOD for BRAINS and BODIES of ALL AGES, this workshop is also a guaranteed good time!
This workshop will be led by a magician Lee Iben who says he is able to teach anyone to juggle within one hour. You have to come to prove him wrong, but be forewarned: it may be that you end up proving him right!!
This is a great opportunity to spend quality time with a family member or friend — time invested in the relationship AND time invested in boosting your brain and body power! It's a win-win.
"HOW NOT TO DIE" FILM SCREENING
Wednesday, December 28
4:00- 5:00PM
Tuition:  FREE Event!
Reflective of Dr. Michael Greger's book of the same name, the film teaches viewers how to protect themselves from 10 causes of premature death and disease with a plant-based diet. Watch this special presentation of "How Not to Die" along with the Body Moves Community as we learn together how to become healthier and live longer based on scientific research.
Coming in January…
NEW YEAR'S DAY YOGA, MEDITATION, AND GONG BATH
Sunday, January 1
1:00 – 2:30PM
Tuition:  FREE Event!
For more information, contact the studio by calling (319) 337-4770 or emailing fitnessatbodymoves@gmail.com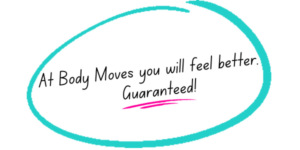 ---
Previously at Body Moves . . .
Do you see someone you know in these snapshots, maybe YOU?
We want YOU to be a part of our LIVE WELL Body Moves community!!