We are Your Wellness Center
for a healthy, balanced, fulfilling lifestyle!
Our LIVE WELL events and programs bring you . . .
Knowledge
Confidence
New Skills
Social Support
Scroll down for our upcoming LIVE WELL events. (You can learn More about fitness and wellness at About Us – About the Studio.)
Events are offered in varying modes — In-studio, Zoom, and Hybrid (blend of In-studio and Zoom) — as pertains to individual events. In many cases, pre-registration is needed for us to bring you the best in programming. Register through the link for each event below, or call the studio at 319-337-4777, or email us at info@fitnessatbodymoves.com.
Want to see snapshots of a sampling of the variety of LIVE WELL events we have hosted in the past? Just scroll down past our upcoming events.
BAREFOOT SERIES
When:  Starting in August
Wednesday's at 4:30PM and Friday's at 11:45AM
Where:  In-studio only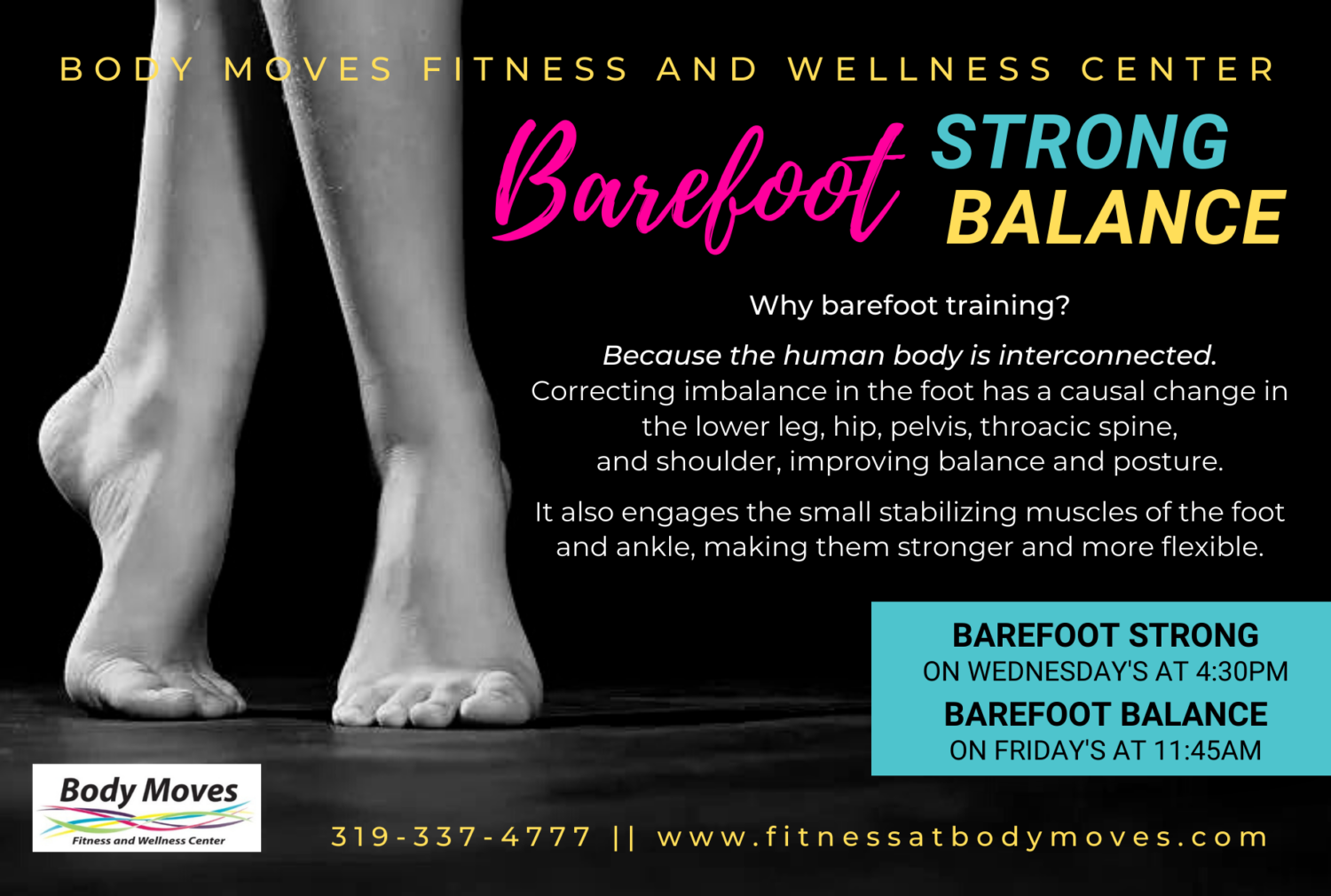 Small group trainer Holly Carpenter, certified Barefoot Training Specialist, is currently teaching a 6-Week BAREFOOT STRONG series. This fall, she will teach the specialty class BAREFOOT BALANCE.
If you would like to learn more about this class, sign up now to

attend one of our two upcoming Coffee & Conversation's

where we will answer the question: Is Barefoot Balance for Me? They will be held at

11:45AM on Friday, July 22 and August 12.
Please note that this is a PROGRESSIVE class. Thus, it will necessarily be available ONLY TO current Body Moves students with a 7 or 11-month contract. Special equipment is recommended and will need to be provided by the student. Currently, there are Naboso training mats and other products available for sale in the studio.
Keep in step with the Body Moves community  and LIVE WELL
as we learn more about movement longevity together through barefoot training!
This month…
PROMPT FOR THE PLANET: COMMUNITY CREATES
When:  Saturday, August 6
1:30 – 3:00PM
Where:  In-studio only
Tuition: FREE event!
Prompt for the Planet is a collaborative effort that was born out of a senior capstone project at the University of Iowa. It recently garnered renewed attention due to Amanda Gorman's rise to fame as the inaugural poet for President Joe Biden in January 2021. With this new attention and expanded leadership involved, there are increased efforts to bring this conversation back to the Iowa City community. To learn more about his project and the connection to Body Moves, click HERE.)
On Saturday, August 6th, from 1:30-3:00PM, Tricia Windschitl and Sarah Neary will conduct a hands-on art making workshop for anyBODY (mover) who would like to submit a creative response to Prompt for the Planet archive.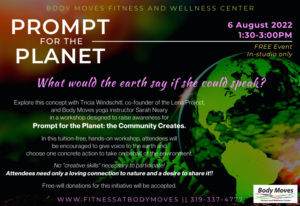 This FREE one-and-a-half hour workshop is intended for everyone!
Participants of all ages have designed creative responses to Amanda's prompt, including the author herself! (To see some examples, click HERE!) You, too, can assume the voice of the Earth and blend its sound with others from around the world.
IMPORTANT: No artistic experience necessary to participate!!
Attendees need only a loving connection to nature and a desire to share it!
LOVELY BUNCHES OUTING
When:  Sunday, August 7
12:30PM
Where:  Meet at the studio to carpool
Tuition: FREE event!
Although not a defined trait, the Blue Zones often emphasize a healthy dose of nature along with their movement. We have an activity to include both plus the social element of "moai" — an outing to Lovely Bunches, a local farm that grows both cultivated and wildflowers where YOU will create a beautiful flower bouquet as unique as you are!
Maybe you don't want to pick flowers. No problem! Bring your camera and practice some still shots. You don't like to take photos? No worries! Come along for the camaraderie and conversation! We know that you will have a lovely time! How do we know?
We are currently looking for drivers for this outing . If you are able and willing to serve as one, please let us know by stoping by the studio, calling us at 319-337-4777 or emailing fitnessatbodymoves@gmail.com.
COFFEE & CONVERSATION:
IS BAREFOOT BALANCE FOR ME?
When:  Friday, August 12
11:45AM – 12:45PM
Where:  In-studio only
Tuition: FREE event!
When the muscles in the feet are activated, it creates a chain reaction that also activates muscles deep in the pelvis, hip, diaphragm and trunk. This results in greater stability of your entire body, making movement more efficient, and moving with greater efficiency means it takes less effort to do the same amount of work. Podiatrist & Human Movement Specialist Dr. Emily Splichal principally focuses on functional and regenerative medicine, especially the role of anti-aging science as it relates to movement longevity. Her unique barefoot training approach has been taught to over 20,000 professionals in more than 35 countries.
Learn more about this from Barefoot Training Specialist and trainer Holly Carpenter. Holly recently received her certification under Dr. Emily Splichal, and is excited to share what she has learned with the Body Move's community.
n June, Body Moves launched a 6-Week Barefoot Strong training series as an introduction to what will become a progressive Active Living class selection (to begin this fall). For students less active or able, Barefoot Balance can be even more beneficial! Learn how by joining us for Coffee & Conversation on Friday, July 22 or August 12, at 11:45AM.
Keep in step with the Body Moves community  and LIVE WELL
as we learn more about movement longevity together through barefoot training!
Stay Tuned for more Upcoming Events…
---
Previously at Body Moves . . .
Do you see someone you know in these snapshots, maybe YOU?
We want YOU to be a part of our LIVE WELL Body Moves community!!