We are Your Wellness Center
for a healthy, balanced, fulfilling lifestyle!
Our LIVE WELL events and programs bring you . . .
Knowledge
Confidence
New Skills
Social Support
Scroll down for our upcoming LIVE WELL events. (You can learn More about fitness and wellness at About Us – About the Studio.)
Events are offered in varying modes — In-studio, Zoom, and Hybrid (blend of In-studio and Zoom) — as pertains to individual events. In many cases, pre-registration is needed for us to bring you the best in programming. Register through the link for each event below, or call the studio at 319-337-4777, or email us at info@fitnessatbodymoves.com.
Want to see snapshots of a sampling of the variety of LIVE WELL events we have hosted in the past? Just scroll down past our upcoming events.
---
Summer Events…
ART IMMERSION EXPEDITION
Thursday,  July 6
Leaving from Body Moves Wellness Studio at 8:45AM
For ten years, Body Moves has been committed to a lifestyle approach of movement and life-long learning, which is why we've planned an art outing to Davenport, Iowa. The excursion includes visiting the River Center to enjoy the Beyond Van Gogh Immersive Experience in the morning and the Figge Art Museum, featuring The Life and Art of Charles M. Schulz exhibit, in the afternoon.
Click HERE to reserve your spot!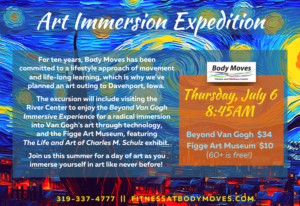 We will leave the studio parking lot at 8:45AM and carpool to Davenport. Once there, the group will first take in the Van Gogh display. Next, individuals can come prepared to enjoy a picnic lunch or eat out at a local restaurant. Following the mid-day meal, the group will visit the Figge Art museum together. Different carpools can decide how long they participate before heading home.
The cost will be minimal. The Van Gogh experience is $34. The art museum is $10 for adults. Seniors (60+) receive free admission on this day as it's the first Thursday of the month. Those carpooling will share a few dollars with the driver for gas money. If you are willing to drive, please let us know as soon as possible either when visiting the studio or by phone/email.
For questions or inquiries about any of these events, call (319) 337-4777 or email fitnessatbodymoves@gmail.com.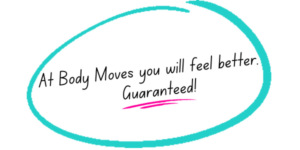 ---
Previously at Body Moves . . .
Do you see someone you know in these snapshots, maybe YOU?
We want YOU to be a part of our LIVE WELL Body Moves community!!