It's true. You've been conned.
The reason you can't refrain from eating a whole bag of chips is not because you lack will power.
Many processed foods have been intentionally engineered to maximize taste with little regard as to its actual nutritional value; so your body craves more and more without actually receiving any benefit.
Learn more about this and the Blue Zones in this interview by Chef AJ with Dan Buettner. (The video will start at 3:45.)
If you are not familiar with these two individuals, they are worth getting to know! Dan Buettner is the author of the Blue Zones Challenge book that we will be using in our upcoming workshop. Chef AJ is a chef, culinary instructor, and professional speaker who advocates plant-based eating. You can find Chef AJ on Facebook and YouTube.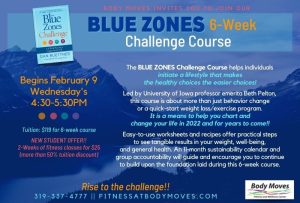 Join us in February for our BLUE ZONES 6-WEEK CHALLENGE. Our main text will be the Blue Zones Challenge book by Dan Buettner, and by going through it with our class, you will already be one-step ahead of the game in shaping your environment and improving your social outlets by being a part of the Body Moves Community.
To learn more about this workshop, visit our EVENTS page or this post: Are You Ready?
For more information or help signing up, call us at 319-337-4777 or email us at fitnessatbodymoves@gmail.com.