Enjoy

fresh produce

and

friendship

while supporting local growers as we
take a trip to the

Iowa City Farmer's Market on Saturday, August 27.

 

The Iowa City Farmer's Market is an open-air market held in the Chauncey Swan parking ramp downtown, located on Chauncey Swan Park and E. Washington Street.
The group will meet in the parking lot of Body Moves at 7:00AM to carpool to the market, and return in time for the 9:00AM yoga class in the studio.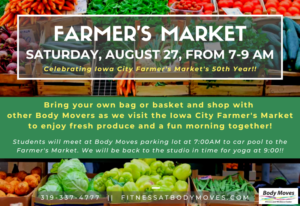 On this particular Saturday, August 27, the market will be celebrating 50 years of local produce, arts, and fresh food! Anniversary activities will take place from 7:30AM to noon. Following is an overview of the schedule of events.
7:30 am-noon: Lawn games at Chauncey Swan Park, arts & crafts activities for kids, market history booth open, vendor booths open
9-11 am- Live music from Joe & Coleen Peterson & Friends
9 am-noon: Partner education and arts organization stations in Chauncey Swan Park
Don't forget to bring bags or a basket for your market finds!
See you next Saturday!