The Blue Zones are communities are known for having high numbers of inhabitants who live past the age of 100 with lower rates of degenerative diseases such as heart disease, diabetes, and cancer. They were identified by Dan Buettner, an explorer, National Geographic Fellow, award-winning journalist and producer, and New York Times bestselling author, when he discovered the five places in the world where people live the longest, healthiest lives.
Buettner identified nine common lifestyle traits among these communities. These commonalities go beyond diet and exercise and may hold the key to health and longevity. They are called The Power 9. So what are they?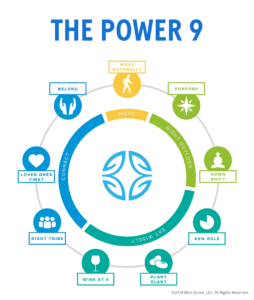 MOVE NATURALLY
Here in the west, we often associate getting exercise with going to the gym. In these environments, people do not go to the gym everyday (if at all!). Their movement (a.k.a. exercise) is built into their daily activities, often without them even thinking about it. They are constantly moving, walking to a friend's house or the market or church. They have gardens in their backyards and stairs in their homes. Perhaps they hang their clothes to dry on a line (versus putting them into a dryer). Their life would not be considered "convenient," but it is exactly this that provides the health benefits!
For many of us, in order for us to start moving naturally, we will need to make life a little inconvenient! Park further away from the store entrance rather than driving around to find the closest one possible. Take an extra trip up the stairs to put something away instead of loading it at the bottom of the staircase. Walk your dog instead of having her play in the yard. Do your own housework. Get rid of mechanical conveniences that are meant to "simplify" your life.
When the T.V. was first produced, some critics thought it would never become popular because who had time to sit around and watch a television show? And where are we today??
So in a world of technological advances, movement is not a given. It must be a choice, and it is yours to make. Be intentional in your movement. Find ways to build it into your life and environment, and experience all the benefits you will gain from it.
Learn more about practical ways to incorporate this into your life during the 6-Week Challenge Course with University of Iowa professor emerita Beth Pelton.
BLUE ZONES 6-WEEK CHALLENGE
April 13 – May 18

There is both a in-studio and Zoom option. Read more about it on our EVENTS page; or call (319) 337-4777 or email fitnessatbodymoves@gmail.com with specific questions.