There are lots of festivities taking place this week and next, but make time to care for your health!
Encourage your loved ones to do the same
by giving a Body Moves gift certificate this holiday season.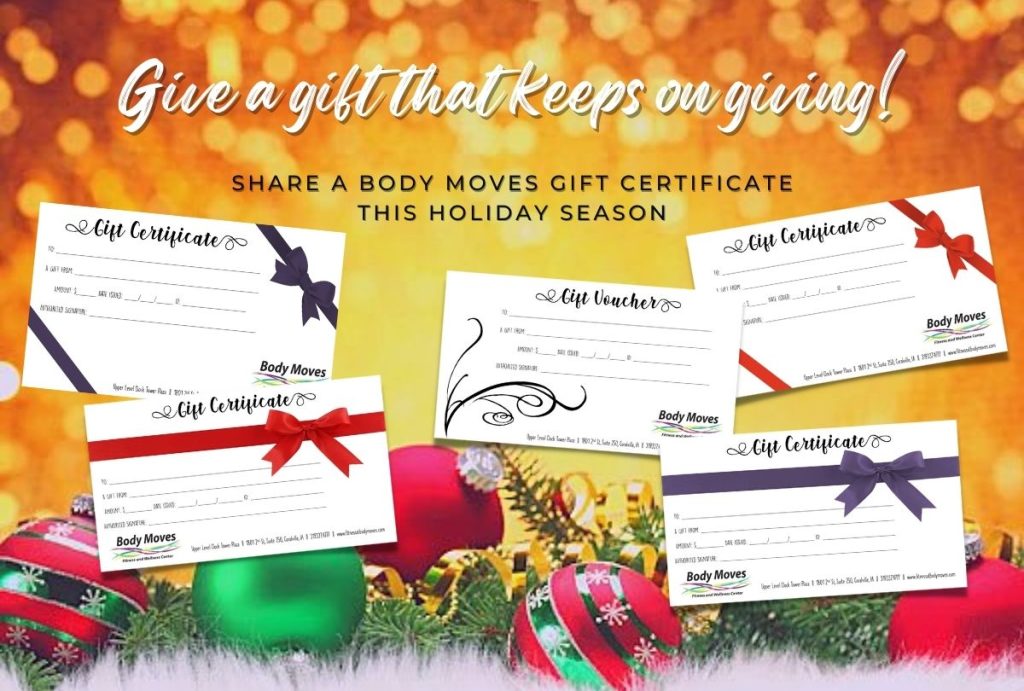 Gift certificates make great stocking stuffers and can be tailored to any amount. They can be used toward classes, merchandise, workshops, and more…
…including our 3-part workshop on Intentions for the New Year in January of 2022!
Holly and Kari will present the differences between intentions and goals, demonstrate why both are better than traditional new year's resolutions, and explore the significance of setting intentions on a both a large and small scale. Students will consider the power of words and why the words we choose matters. The class will consider ways to build accountability into our lives for long-term success, engaging in class discussions and reflective activities.
The workshop will be held on January 8, 15, and 22 from 11:00AM-12:00PM. Tuition is $25 for single sessions or $60 for all three. You can sign up here!
But before that, join us in celebrating the New Year!
New Year's Day, we will have a special Class Sampler event featuring some of our Active Living classes. Classes will be a half-hour each, including Body Sculpt, yoga, Nia, and Qigong. Join us anytime from 9:30AM-12:00PM on January 1, 2022. The event will include light refreshments, fitness, and fun. Plan to join us for all or part of the event.
This is a FREE event, so please join us…and invite others!!
Current Body Moves students who bring a friend
will have their name put into a drawing for a door prize.
THERE WILL BE A FREE-WILL OFFERING FOR TORNADO-HIT COMMUNITIES AT THIS EVENT.
Please come prepared if you wish to participate.
We are so thankful for our Body Moves students and community!
Here's to another year together!