Are you looking forward to the latter half of your life? Many people don't, especially as they get closer to the end and further from the beginning.
Because it's not something we tend to look forward to, we often avoid talking about it, much less prepare for it! But what about your comfort and peace of mind as a senior? What's the long-term plan?
People often associate such thinking with end-of-life planning, and that thought seems morbid; however, the truth is that planning for your golden years is just as important as thinking about what comes after!!
Thoughtful planning can help you make the most of your best years
and enable you to live out your life in accordance with your own values!
But such a task can be overwhelming! Where do you begin?
How does a person know what issues to think through?
How do you plan for an unknown future?
Mary E. McCall is a Values Coach and Advance Care Planning Facilitator and Gerontologist. Beginning this Wednesday, May 24, she will present a 6-session series that will explore a values-based approach to communication and decision-making in the context of a variety of issues related to aging and families/loved ones.
Her sessions will include topics such as:
Exploring Living/Housing/Care Options
Approaching Health & Legal Issues (advance care planning, power of attorney, etc.)
Understanding Family Dynamics (parent-child/sibling)
Advance Care Planning & End of Life Conversations
Dealing with Emotions (of self and others)
Each session will begin with a presentation of the topic and practical tools and strategies for values-based conversations and decision-making in each area. Discussion and and a Q&A will follow, so be sure to bring your questions and your concerns! Mary is excited to show you how to embrace the better half of your life!
USING YOUR VALUES
TO NAVIGATE MID- TO LATE-LIFE ISSUES
Wednesday's and Saturdays
May 24 thru June 10
12:00 – 1:30pm
at Body Moves Wellness Studio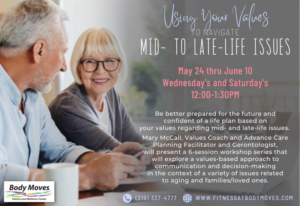 Sessions will be held on Wednesday's and Saturday's, beginning at 12PM. Participants can register for one, several, or all of the sessions with various tuition packages. Please sign up in advance for the sessions you plan to attend!
Tuition packages:
6 sessions for $120
4 sessions for $100
1-3 sessions for $30/each
For questions or inquiries about any of these events, call (319) 337-4777 or email fitnessatbodymoves@gmail.com.