Don't forget! This coming Sunday, Saturday 11, is this year's Prompt for the Planet: Community Creates. Join in the fun with an afternoon of artistic inspiration through song, dance, poetry and spoken word!!
For the past year, Body Moves instructor Sarah Neary has been intricately involved on a community initiative called "Prompt for the Planet" whose goal is to explore environmental engagement and activism through the lens of art and community. The initiative was inspired by poet laureate Amanda Gorman and is an artistic and creative project to increase awareness for environmental engagement and activism.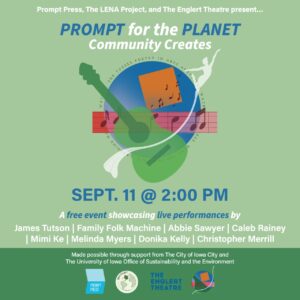 This FREE concert on Sunday will display various voices as well as art at the Englert Theatre (downtown Iowa City) in celebration of this year's artistic contributions and as a kick off for the next "growing season" of the initiative.
PROMPT FOR THE PLANET: Community Creates
Sunday, September 11
2:00PM
Just prior to the concert, there will be a special "eco-themed" march at 1:15PM. The "Joy March" will begin at Public Space One (PS1) at 229 N. Gilbert and end at the Englert/Ped Mall area. Costumes and silliness are strongly encouraged!
Body Moves advocates wellness in all dimensions of health, including the environmental dimension. As a follow-up to the August 6 Prompt for the Planet workshop that we held at Body Moves, we are supporting this community event.
Let's advocate for wellness in all dimensions: physical, mental, emotional, social, spiritual, and ENVIRONMENTAL!!