In this series, we're examining The Power 9, nine common characteristics of those who live in the Blue Zones.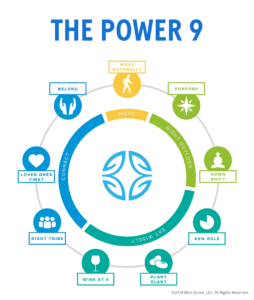 To read more about the BLUE ZONES, click HERE.
No. 1:  MOVE NATURALLY.
Nos. 2 and 3:  Define Your Purpose and Downshift.
Nos. 4 and 5: 80% Rule and PLANT SLANT.
Today's characteristics is No. 6:  Wine at 5:00.
6. WINE @ FIVE
The elixir of life has been the search of man throughout the ages. While it has yet to be found, there may be a substitute, which has been used for years in Europe and increasingly so in the United States: wine.
Due to healthy plant compounds and antioxidants, wine has been shown to reduce the risk of heart disease, certain cancers and slow the progression of neurological disorders like Alzheimer's and Parkinson's Disease.
For example, red wine that has an alcohol content of 12% -15% on a daily basis helps in the prevention of a number of diseases including heart disease. It also offers the following benefits:
Rich in antioxidants
Before consuming a wine, it's important to know about it, including both the positive and negative effects it can cause on your health.
Lowers bad cholesterol.
Helps keep heart healthy.
Polyphenols, a certain type of antioxidants present in red wines prevent unwanted clotting by keeping the blood vessels flexible.
Regulates blood sugar.
Resveratrol, a natural compound found in grape skin, helps controls blood sugar levels in diabetic persons as well as cholesterol levels and systolic blood pressure.
Reduces the risk of cancer.
Resveratrol is a highly powerful antioxidant. Scientists found that a dose of it used on human cancer cells obstructs the key action of a cancer aiding protein.
Treats common cold.
Antioxidants present in red wine protect cells against the harmful effects of free radicals which has a strong role to play in cold, cancer and other diseases.
Keeps memory sharp.
Again, the power polyphenol resveratrol inhibits the formation of beta-amyloid protein, a key ingredient in the plaque of the brains of people with Alzheimer's.
Helps maintain weight.
How? The chemical compound piceatannol (converted from resveratrol!) reduces the fat cells in our body. Research shows that piceatannol fastens the insulin receptors of fat cells and blocks the pathways required for immature fat cells to grow. The consumption portions suggested at the end of this post are for total alcohol intake, not just wine as an addition.
Reduces the risk of depression.
Has positive effects on the digestive system.


To get even more Power 9 benefits, enjoy it at a meal shared with friends to experience. Remember, too, wine can be consumed as an ingredient in your food or a red wine sauce to go with your dinner.
As with all things, it's important to be mindful of your intake. There is a fine line between moderation and excess. Too much can be detrimental to one's health. Too little may not provide the benefits enjoyed by moderate drinkers. Baselines are 1-1.5 glass for women and 1-2 for men enjoyed regularly, although not necessarily daily.
The takeaway? If you are a wine lover, you can use it to your own health benefits by consuming it in the right amounts.
Learn about other healthy habits during the Blue Zones 6-Week Challenge from April 13 – May 18 led by University of Iowa professor emerita Beth Pelton.
BLUE ZONES 6-WEEK CHALLENGE
April 13 – May 18

Thursday's beginning April 13
In-studio at 1:30PM
Tuition $119
Zoom option at 12:00PM
Tuition $135
There is both a in-studio and Zoom option. Read more about it on our EVENTS page; or call (319) 337-4777 or email fitnessatbodymoves@gmail.com with specific questions.