Today is the first day of the rest of your life.
Get out there and enjoy it!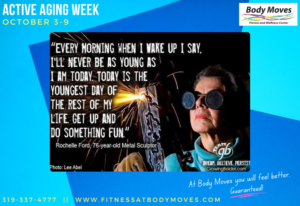 And while you are out there doing stuff, make sure it's FUN stuff!
Read our earlier post on "The Joy of Movement" to learn more about why it's important to find healthy options we enjoy, particularly movement. At Body Moves, we offer lots of different types of movement for that very reason. If you don't enjoy it, you won't stick with it!
You can find our ACTIVE LIVING schedule HERE and our SPECIALTY class schedule HERE. If you are interested in SMALL GROUPS, you can find possible times HERE. Small groups meet 2-3 times a week. Bundle on package deals to save even more!
We guarantee you will find a fun, joyful community in the Body Moves Tribe!
At Body Moves, there truly is something for everyBODY!
Visit us to find out what we have for YOU!!