Whether you've juggled before or you are brand new to it, this workshop will help improve spatial awareness, eye/hand coordination, dual-tasking and more! In addition to being GOOD for BRAINS and BODIES of ALL AGES, this workshop is also a guaranteed good time!
This workshop will be led by a magician Lee Iben who says he is able to teach anyone to juggle within one hour. You have to come to prove him wrong, but be forewarned: it may be that you end up proving him right!!
LEARN-TO-JUGGLE WORKSHOP
Saturday, October 22
4:00-5:30PM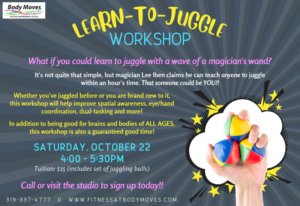 Tuition is only $25 and includes set of juggling balls!
This workshop is in-studio only.
This is a great opportunity to spend quality time with a family member or friend — time invested in the relationship AND time invested in boosting your brain and body power! It's a win-win.
Don't miss out!
Click HERE to sign up TODAY!