As we age, our life purpose changes. Often this changes are influenced by children, health, and/or job details.
Whatever stage you are at in life, Mary McCall's workshop is for you!!
Mary will show us how to best navigate through the better half of life using our values as my guide. This may relate to you or it may be more significant as how to how to help loved ones in your life, but it's guaranteed to be relevant and incredibly practical!!
And it's time to make time!! Don't miss this golden opportunity to learn about important issues that affect all of us at various stages in life!
Join us TODAY at noon for the first of six sessions!!
USING YOUR VALUES
TO NAVIGATE MID- TO LATE-LIFE ISSUES
Wednesday's and Saturdays


May 24 thru June 10
12:00 – 1:30pm
at Body Moves Wellness Studio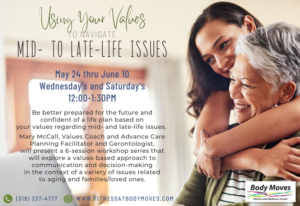 Tuition packages:
6 sessions for $120
4 sessions for $100
1-3 sessions for $30/each
Topics to be addressed:
Exploring Living/Housing/Care Options
Approaching Health & Legal Issues (advance care planning, power of attorney, etc.)
Understanding Family Dynamics (parent-child/sibling)
Advance Care Planning & End of Life Conversations
Dealing with Emotions (of self and others)
For questions or inquiries about any of these events, call (319) 337-4777 or email fitnessatbodymoves@gmail.com.