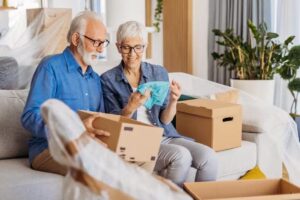 As Americans, we tend to be sentimental about places.
This is the house that I grew up in.
This is where my children grew up.
This was the house we lived in when my spouse passed away.
Moving means leaving; and often when we leave a special place that we've been at for a long time or a unique time of life, we feel like we're abandoning or losing the people who made it special, so we hang on longer than we should, longer than is best for us.
Aging, whether you like it or not, is a time of adaption and change, and often it means a new living arrangement. Thinking ahead to your future housing needs is an important part of ensuring that you continue to thrive as you age.

The earlier you assess your current needs
and how those needs may evolve,
the more choices and control you'll have. 
Join us tomorrow at 12PM to explore this important topic with Mary McCall.
This topic in the session on Saturday, May 26; and is one issue of many (!!) that Mary is addressing in her Values Series this month.
USING YOUR VALUES
TO NAVIGATE MID- TO LATE-LIFE ISSUES
Wednesday's and Saturdays


May 24 thru June 10
12:00 – 1:30pm
at Body Moves Wellness Studio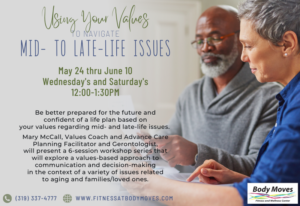 Tuition packages:
6 sessions for $120
4 sessions for $100
1-3 sessions for $30/each
Mary E. McCall, Values Coach and Advance Care Planning Facilitator, Gerontologist, is presenting a 6-week series that will explore a values-based approach to communication and decision-making in the context of a variety of issues related to aging and families/loved ones.
How can I best navigate through what is
the better half of my life using my values as my guide?!
Topics to be addressed:
Exploring Living/Housing/Care Options
Approaching Health & Legal Issues (advance care planning, power of attorney, etc.)
Understanding Family Dynamics (parent-child/sibling)
Advance Care Planning & End of Life Conversations
Dealing with Emotions (of self and others)
For questions or inquiries about any of these events, call (319) 337-4777 or email fitnessatbodymoves@gmail.com.