Most people know about Advance Directives, and many think they are a good idea, especially when one hears news of someone who was not prepared! So if they are such a good idea, why doesn't everyone have one?
There are lots of reasons…not good ones, necessarily, but reasons, nonetheless.
It may be they don't want to think about death or a serious illness. They are too healthy for anything to be a threat. Some think writing advance directives is bad luck or think it means they no longer want medical care. Maybe they don't want to be a bother in pestering if they need someone's help to get it done. Maybe they don't know enough about them or the health care choices available. Ethnic and cultural beliefs make a difference, too.
Do you have an advance directive?
If not, why not?
Have you considered how having an advance directive will give your loved ones peace of mind? Perhaps even provide you with a settled spirit? And it will absolutely reduced potential conflicts among your family members in the future!
As you consider this, consider also joining Mary McCall, Values Coach and Advance Care Planning Facilitator, Gerontologist, as she continues her 6-session series that explores a values-based approach to communication and decision-making in the context of a variety of issues related to aging and families/loved ones.
USING YOUR VALUES
TO NAVIGATE MID- TO LATE-LIFE ISSUES
Wednesday's and Saturdays
May 24 thru June 10
12:00 – 1:30pm
at Body Moves Wellness Studio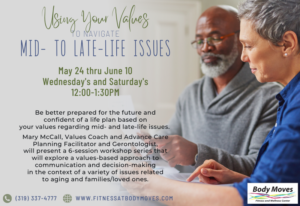 Topics to be addressed:
Exploring Living/Housing/Care Options
Approaching Health & Legal Issues (advance care planning, power of attorney, etc.)
Understanding Family Dynamics (parent-child/sibling)
Advance Care Planning & End of Life Conversations
Dealing with Emotions (of self and others)
For questions or inquiries about any of these events, call (319) 337-4777 or email fitnessatbodymoves@gmail.com.