Body Moves is turning 10!!
Ten years of offering health & wellness services
to Iowa City, Coralville,
and the surrounding areas!!
That's worth celebrating!!
We invite YOU to join us for any and all
of the numerous offerings
scheduled for the upcoming weeks!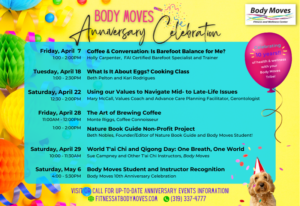 Note the various classes, dates, and times. Be sure to mark your calendars and "save the date!"
We will be posting about these classes here on the website (see EVENTS page) and on Facebook. Check back regularly for details and to sign up early, both to reserve your spot and to help us to adequately prepare for upcoming activities.

Kick off the anniversary events with a tuition-free(!!) event!
FAI Certified Trainer and Barefoot Specialist Holly Carpenter addressed the importance of feet health and answers the question: Is Barefoot Training for Me?
I'll give you a hint: if you're looking to increase your balance, posture, strength, and reaction time, the answer is yes!
Learn about all this and more with Coffee & Conversation this coming Friday, April 7, from 1:00-2:00PM. It costs nothing to attend, but what you will learn is invaluable!