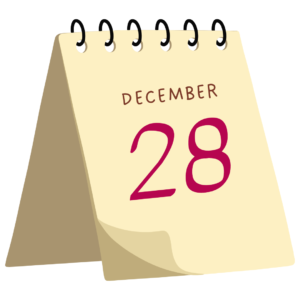 First Published December 15, 2022
In the midst of this holiday week
don't forget to mark
BODY MOVES on Wednesday, December 28.
It's an event to die for…
…or rather an event to learn "How NOT to Die."
WHAT IF there was solid research that showed how to prevent, treat, and even reverse the progression of many of our deadliest diseases, including heart disease (the number one killer), type 2 diabetes, and high blood pressure?
This research exists! And the proof is in the pudding: your diet. You truly are what you eat.
Ironically, doctors get little (if any!) formal nutrition training in medical school and often graduate without some of the most powerful tools available to stop the chronic diseases that remain our leading causes of death and disability. People who would like to make better dietary choices for themselves and for their families encounter in our digital world an abundance of often conflicting information, which leaves them confused and overwhelmed.
Thankfully, there are entities like NutritionFacts.org, a science-based nonprofit organization founded by Michael Greger, M.D. FACLM, that provides free updates on the latest in nutrition research via bite-sized videos with captions offered in a variety of ways. They are strictly a non-commercial public service health charity, and their goal is to present the latest in peer-reviewed nutrition and health research presented in a way that is easy to understand.
In partnership with NutritionFacts.org,
Body Moves is offering a FREE film screening of
"How NOT to Die" on Wednesday, December 28, at 1:00PM

.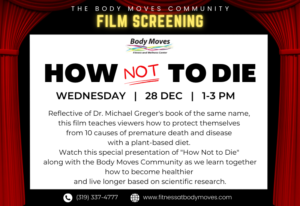 Click HERE to sign up and reserve your seat.
This is a FREE event!


Invite a friend..or two or three or more!!
There will be seating available.
Sign up early to reserve your spot!!