The early bird gets the worm!
Are you going to benefit from our Early Bird pricing!?
Today is the LAST DAY to register for our brain health workshop this coming Friday, March 17, with Brain Health Trainer Holly Carpenter. Exercise improves cognitive functioning, mental health, and memory.
Exercise also hinders the development of other neurological conditions like stress and depression. Learn more and experience practical uses in this special two-part LIVE WELL mini-series.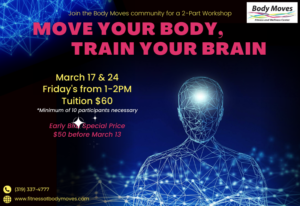 MOVE YOUR BODY, TRAIN YOUR BRAIN

Friday, March 17 and 24
1:00-2:00PM
Tuition: $60