CRYSTALS & SAGE WORKSHOP
Saturday, January 28
1:00 – 2:30PM
Tuition:  $25
Learn more about how and why crystals work in our Crystals and Sage workshop with Advanced Crystal Master Karen Besler on Saturday, January 28, from 1:00-2:20PM. Tuition is $25.
Karen's presentation will include demonstrations of crystals, particularly Quartz. Quartz is said to have many positive qualities. It can enhance spiritual awareness and increase inspiration and creativity. It can also help with concentration and learning.
In this hour-and-a-half workshop, students will learn how frequencies affect our bodies and minds, Karen will conduct a demonstration of energy fields (aura). Lastly, she will focus on the power of intentions with crystals as with so many other aspects of our lives.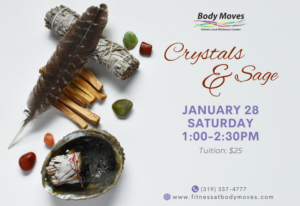 For more information, contact the studio by calling (319) 337-4777 or emailing fitnessatbodymoves@gmail.com.