Tuesday's cooking workshop
"What Is It About Eggs?"
is CANCELED due to low enrollment.
But don't let that get your down!
Join us for other FREE and UPCOMING
10th ANNIVERSARY EVENTS!!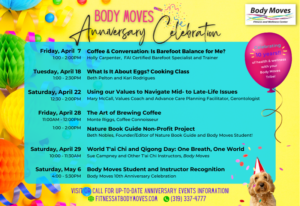 Find information about events and sign-up links on our EVENTS page.
While you're here, sign up for Saturday's special workshop on April 22 from with Mary McCall, Values Coach and Advance Care Planning Facilitator, Gerontologist.
Saturday, April 22
12:30 – 2:00pm
at Body Moves Wellness Studio
By mid-life, we may feel like we have figured out a lot about ourselves, our partners, our kids, our careers, and our parents. Then just as we start to feel "in-the-groove," life changes! Work, family, and societal dynamics can bring unplanned challenges and decisions to be made.
How is my life purpose changing? When, and how should I retire? Should I up-size, down-size, move to be near the kids/my parents? How can I stay healthy as my age advances, even as my health (or my family member's health) is changing? How do I address fears of cognitive decline, falling, increased medical appointments, not being able to drive, and not run out of money before I die? How do I process end-of-life planning?
In a nutshell: how can I best navigate through what is the better half of my life, using my values as my guide?!
Join us in a unique session with Mary E. McCall, Values Coach and Advance Care Planning Facilitator and Gerontologist, as she presents a brief overview of values-based approaches to mid- and late-life issues: how to articulate your values, use them to make informed decisions, and clearly communicate those to others in your life who need to know.
Bring your questions and your concerns.




Mary is eager to open doors to the better half of your life!