COFFEE & CONVERSATION:
"Is Small Group Personal Training for Me?"


Saturday, February 5




11:00AM-12:00PM
Join trainer Holly Carpenter and other Body Moves students and friends this morning at 11:00AM to enjoy refreshments and learn more about Small Group Personal Fitness (SGPT).
This is a FREE event!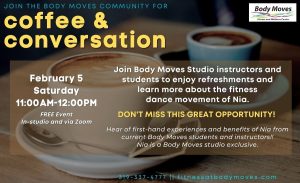 Small Group Personal Training allows the personal trainer to offer corrections, progressions, and appropriate modifications. Workouts change and evolve as the group progresses, providing a challenging, motivating, and encouraging environment. Maybe it's the place for you!
Join us to hear of first-hand experiences and benefits of SGPT from current Body Moves students and instructors.
If you are a NEW STUDENT to Body Moves, join us Saturday morning for a FREE Body Sculpt, yoga, or Nia class, then stay to enjoy more community and refreshments at our Coffee & Conversation.