We have started a Body Moves Book Club and you are invited!  Our first book club meeting will be Saturday, August 29 from 4:00 – 5:30 p.m.  This will be a Hybrid event, meaning you have the option of participating in the studio space (with appropriate COVID-19 protection measures) or through the Zoom format.  Instructor and book-lover Holly Carpenter will facilitate our discussion.  Twyla Tharp's book and the discussion among us promises to bring positive mental, emotional, and physical boosts.  It will be a great way to gear up for the fall season.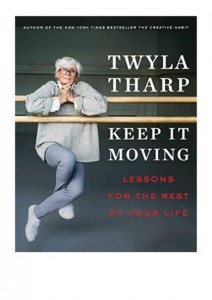 Keep It Moving: Lessons for the Rest of Your Life
by Twyla Tharp
Simon and Schuster Publisher, 2019
ISBN 978-9821-0131-5
Available through your favorite book vendor and local libraries
If you are
a lover of the arts, or fitness, or positivity or any combination thereof
looking for clarification, direction, purpose, renewed energy
seeking to dispel the myths of aging
curious about the life of Tony and Emmy Award winner of choreography, 78 year old Twyla Tharp
longing to get together with friends
Then, read Twyla's book and come to our Book Club Meeting on Saturday, August 29 from 4:00 – 5:30 p.m.  Call the studio at 319-337-4777 to sign-up for in-studio attendance or to get the Zoom link.
This Book Club Event is Another Tuition-Free Event
at YOUR Body Moves Fitness and Wellness Center!