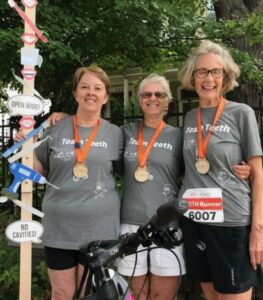 We are so proud of this trio of friends and Body Movers!  Congratulations!
Su Groff-VanArendonk (L), Liz Hooley (C) and Karen Smith (R) committed to training for a Tri — and this last weekend they scored at the finish line!!
Su was the biker, Liz the swimmer, Karen the runner.
Great training and discipline paid off.  Look at the Smiles of Victory and Fitness and Friendship!
Congratulations!
The trio was sponsored by Karen Smith's daughter's dental practice, thus the name Team Teeth!
High fives to the Team Teeth Trio that Tackled this Tri!!!!