By mid-life you have learned a lot about yourself, your partner, your kids, your career, and your parents. Then just as you start to feel "in-the-groove," life changes! Work, family, and societal dynamics bring planned and unplanned challenges and decisions to be made.
How is my life purpose changing?
When, and how should I retire?
Should I up-size, down-size, move to be near the kids/my parents?
How can I stay healthy as my age advances, even as my health (or my family member's health) is changing?
How do I address fears of cognitive decline, falling, increased medical appointments, and not being able to drive?
How do I not run out of money before I die?
How do I process end-of-life planning?
How can I best navigate through what is
the better half of my

life

using my values as my guide?
Mary E. McCall, Values Coach and Advance Care Planning Facilitator, Gerontologist, will present a 6-session series that will explore a values-based approach to communication and decision-making in the context of a variety of issues related to aging and families/loved ones.
USING YOUR VALUES
TO NAVIGATE MID- TO LATE-LIFE ISSUES
Wednesday's and Saturdays
May 24 thru June 10
12:00 – 1:30pm
at Body Moves Wellness Studio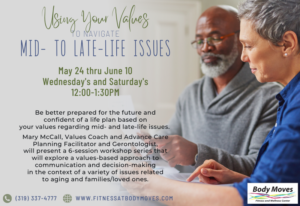 Tuition packages:
6 sessions for $120
4 sessions for $100
1-3 sessions for $30/each
The first week will present a values-based framework that is useful in any situation where we are discussing topics that might feel challenging or difficult.
Topics to be addressed:
Exploring Living/Housing/Care Options
Approaching Health & Legal Issues (advance care planning, power of attorney, etc.)
Understanding Family Dynamics (parent-child/sibling)
Advance Care Planning & End of Life Conversations
Dealing with Emotions (of self and others)
Each session will include a presentation of the topic, discussion and questions, and practical tools and strategies for values-based conversations and decision-making in each area. Bring your questions, your concerns. Mary is eager to open doors to the better half of your life!
Participants are asked to register in advance for each session. See above information for a general order of topics.
For questions or inquiries about any of these events, call (319) 337-4777 or email fitnessatbodymoves@gmail.com.