Busy searching for a last-minute gift?
It's never too late to share the gift of health with a loved one!
Take advantage of our customizable GIFT CERTIFICATES!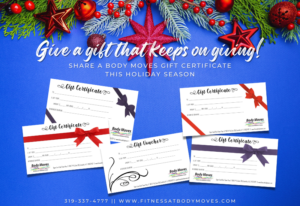 Don't fret about what to get your Body Mover friend or family member.
Keep it simple and share the gift of health!
Gift certificates can be set for ANY AMOUNT and used toward memberships (including current ones!!) as well as workshops like our upcoming New Year's Day Meditation and Gong Bath.
Call the studio at (319) 337-4777 or email us at fitnessatbodymoves@gmail.com for any additional assistance.