The holidays will soon be here
with all the blessings
and challenges
that come with them.
But does it have to be the
same old same old?
Not at all! But change doesn't happen by chance! Prepare to make intentional choices now that will enable you to walk through the holidays differently this year!
One way is by signing up
for our upcoming workshop…
Holiday Dishes with Whole-Food Flair
Saturday, December 3
11:30AM – 1:00PM
Tuition: $25 (includes food tasting/lunch)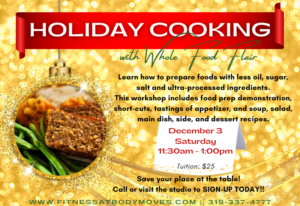 In this workshop, you will learn how to prepare foods with less oil, sugar, salt and ultra-processed ingredients. This workshop includes food prep demonstration, short-cuts, tastings of appetizer, and soup, salad, main dish, side, and dessert recipes.
Save your place at the table!