The problem is not your age.
It's your mindset.
What do you think someone your age should be or act like?
Do you see someone whose body may feel stiff in the morning but is ready to start moving to feel better by the end of it? Do you see someone who gets a solid night's sleep because they've been up and active throughout the day? Do you see someone who is still learning and growing? Because you should.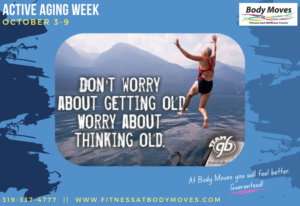 You are what you think!
So think fun, active, and full of life!
Then surround and submerge yourself in a community who thinks like you at Body Moves!
We offer a FREE ACTIVE LIVING class to new students,
as well as a "2 weeks for $25" introductory special.
You can find our ACTIVE LIVING schedule HERE and our SPECIALTY class schedule HERE.
If you are interested in SMALL GROUPS, you can find possible times HERE.
Small groups meet 2-3 times a week.
Bundle on package deals to save even more!
At Body Moves, there truly is something for everyBODY!
Visit us to find out what we have for YOU!!