In 2018, University of Iowa student Shannon Nolan constructed a senior capstone project under the direction of her instructor David Gould in his class "The Green Room" that asked students at the University of Iowa to creatively reflect on the state of the planet. Gould asked then Youth Poet Laureate Amanda Gorman to write the prompt for the project. This is what she wrote:
THE PROMPT
Think of one element and speak in its voice through pictures and words.

What would the fires raging in California say to the world?
What would the wind from Hurricane Maria demolishing Puerto Rico sound like?
What does freshly fallen rain on a state in drought feel and taste like through poetry? Love? Relief?

Think of it as creating an open letter from the planet.
The project continued to grow as Nolan engaged the Iowa City community, including local Preucil Preschool. Preschool Director Tricia Windschitl immediately fell in love with the project when she learned of it and invited Nolan to the preschool. Thirty preschoolers soon became the youngest citizens of our society to respond to Gorman's prompt.
Tricia and her students used their collective, creative voices to address plastic pollution in our oceans and waterways. Specifically, they directed their efforts toward overuse of plastic straws, persuading local restaurants and foodservice providers to reduce straw use.
This small collaboration became a global initiative called Prompt for the Planet.
Even after the original showcase and event, thoughts lingered with the preschoolers about "helping Earth be the best Earth" and what they could do the help. Inspired by her students' concern for their future, Tricia decided to create a non profit organization to amplify their voices and continue to spread this message. Thus, from the soil of Prompt for the Planet, grew the LENA project. LENA stands for Lessen. Empower. Notice. Act.
Prompt for the Planet has had renewed attention since Amanda Gorman's rise to fame as the inaugural poet for President Joe Biden in January 2021, receiving new attention and submissions from all over the world. With expanded leadership involved, there are increased efforts to bring this conversation back to the Iowa City community.

On Saturday, August 6th, from 1:30-3:00PM,
Tricia Windschitl and Sarah Neary will conduct
a hands-on art making workshop
for anyBODY (mover) who would like to
submit a creative response to
Prompt for the Planet archive.

Both women are well-equipped to lead this workshop. Tricia, who is still the director of Preucil Preschool, continues her work the Lena Project, a group of adults and children focused on sustainable and climate conscious actions in our community.

Sarah Neary is an artist, social worker, and a Body Moves yoga instructor. She worked on an organic farm in Iowa City during her formative years of developing her painting skills. This combination engages her love of nature and art in "art activism" on behalf of the planet.
This FREE one-and-a-half hour workshop
is intended for everyone!
Anyone and everyone is invited to participate in this project. Participants of all ages have designed creative responses to Amanda's response! (To see some examples, click HERE!) Assume the voice of the Earth and join it with others from around the world.
IMPORTANT: No artistic experience necessary to participate!!




Attendees need only a loving connection to nature and a desire to share it!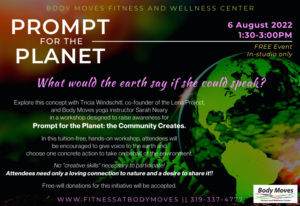 Art and writing materials will be provided. Please join us (along with a friend or daughter or grandson!) and use your voice on behalf of the earth. We aim to collect and combine thousands of voices to create one voice: the voice of the Earth in this critical point in time.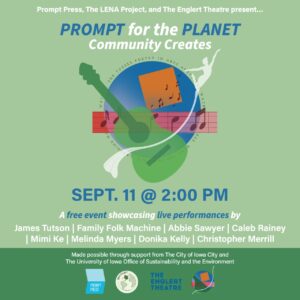 All this will build toward a September art showcase, Prompt for the Planet: Community Creates. The free event will be held at the Englert Theater.
Plan now to be a part of this incredible,
collaborative effort between Prompt Press,
the LENA Project,
and the Englert Theater…
…beginning with our creative workshop
on Saturday, August 6!
See you in the studio!!