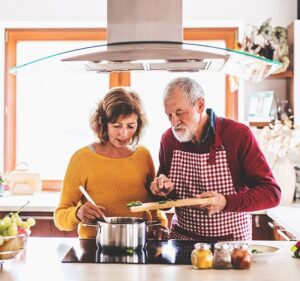 There's a lot of confusion about what predisposes a person to disease and other life-changing conditions such as diabetes, dementia, or cancer.
It was previously thought that genes were to blame. That's significant because you cannot change your genes, and such news can make you feel as if you have no control over your health.
While that is true that genes do have an influence, the size of that influence has been grossly exaggerated. The actually only account for around ten percent of human disease.
Research shows that the other 90% of a person's health is determined by a his or her environment, meaning one's lifestyle behaviors that includes such things as physical activity, nutrition, sleep habits, and stress levels.
Healthier environments naturally nudge people toward healthier choices.
This is the heart of the Blue Zones Project, communities designed and focused on influencing how people interact and experience the world around them, specifically the Life Radius®, the area close to home in which people spend 90 percent of their lives.
There are nine common traits between these communities, and tomorrow, we're going to begin to look at them here on the blog.
Until then, google "blue zones" and learn about people groups who've unlocked the secret to living longer and better!
University of Iowa professor emerita Beth Pelton has prepared a 6-Week Blue Zones Challenge Course to help participants transition to a healthier lifestyle. More than a quick fix, this course is designed to help you see change now and for years to come with practical steps to help make the healthy choice the easy choice. The course will be offered in-person and via Zoom.
Visit our EVENTS page to read more about it; or call (319) 337-4777 or email fitnessatbodymoves@gmail.com with specific questions.
Better yet, SIGN UP TODAY!! as we can guarantee it's an investment that will only keep giving!!
BLUE ZONES 6-WEEK CHALLENGE


April 13 – May 18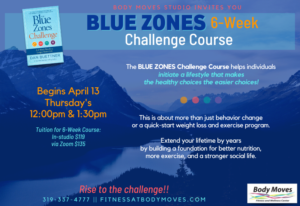 Thursday's beginning April 13




In-studio

at 1:30PM




Tuition $119
Zoom option

at 12:00PM




Tuition $135