If you're visiting our website, you obviously care about your well-being, but there are a lot of misconceptions about what that means.
Cardio is important, but it's not enough.
Flexibility is important, but it's not enough.
A lot of times, the missing element, especially for more mature adults is strength training.
Strength training is often see as an elite activity reserved for professional athletes or competitors; however, strength training is important for all of us.
Strength training can enhance your quality of life and improve your ability to do everyday activities. It also helps protect your joints from injury. Building muscle contributes to better balance and may reduce your risk of falls.
Strength training in a small group offers more personalized attention towards your form and progression. It can be especially helpful when recovering from n surgery/injury or in preparation for a specific challenge.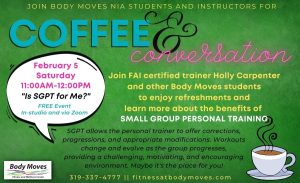 Join trainer Holly Carpenter this coming Saturday, February 5, at 11:00AM for a time of Coffee & Conversation to learn more about strength training and the benefits of training in a small group setting. This is a FREE event!