Special Events, Specialty Classes, and
Small Group Personal Training

The most current events are found at the the top of the page. If you are interesting in learning more about our Specialty Classes or our Small Group Personal Training, please click on the highlighted text to quickly jump down the page to those sections. Otherwise, keep reading to learn about the latest events planned for our community.
We have started a Body Moves Book Club and you are invited!  Our first book club meeting will be Saturday, August 29 from 4:00 – 5:30 p.m.  This will be a Hybrid event, meaning you have the option of participating in the studio space (with appropriate COVID-19 protection measures) or through the Zoom format.  Instructor and book-lover Holly Carpenter will facilitate our discussion.  Twyla Tharp's book and the discussion among us promises to bring positive mental, emotional, and physical boosts.  It will be a great way to gear up for the fall season.

Keep It Moving: Lessons for the Rest of Your Life
by Twyla Tharp

Simon and Schuster Publisher, 2019
ISBN 978-9821-0131-5

Available through your favorite book vendor and local libraries

If you are

a lover of the arts, or fitness, or positivity or any combination thereof
looking for clarification, direction, purpose, renewed energy
seeking to dispel the myths of aging
curious about the life of Tony and Emmy Award winner of choreography, 78 year old Twyla Tharp
longing to get together with friends

Then, read Twyla's book and come to our Book Club Meeting on Saturday, August 29 from 4:00 – 5:30 p.m.  Call the studio at 319-337-4777 to sign-up for in-studio attendance or to get the Zoom link.

This Book Club Event is Another Tuition-Free Event at

Your Body Moves Fitness and Wellness Center! 
You are invited to a Body Moves' online webinar!!
 Head Smart: How We Train Our Brain
with Personal Trainer Holly Carpenter
Functional Aging Institute (FAI) Certified Brain Health trainer Holly Carpenter is back with another Head Smart workshop. This two-hour workshop will focus on "How We Train Our Brain." It will be held virtually via Zoom on Saturday, August 1, 2020, from 1:00-3:00PM.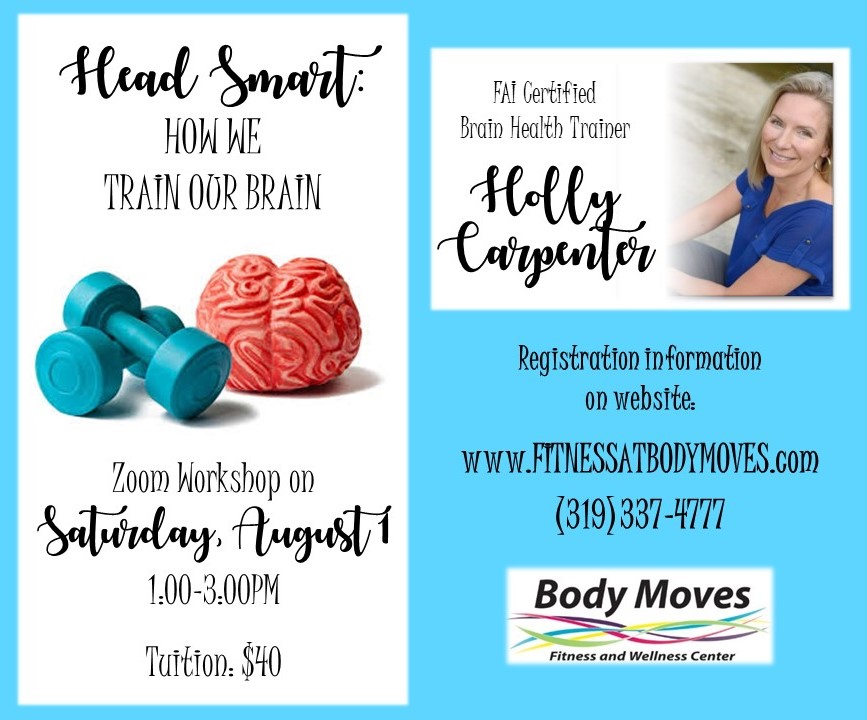 Holly will begin with a brief review of important concepts from the initial workshop, then expand on the concepts, looking at how different exercises can help shape your brain. There will be a time of Q&A at the latter end of the workshop.
Registration for this event is now open. Tuition is $40 for the workshop. You can register here online or call the studio (319-337-4777).
Don't miss out on this event!
Students may sign-up for this event online or by phone (319.337.4777).
---
Specialty Classes
In specialty classes, students learn through an established progression of content and technique. Due to the nature of instruction, class enrollments are typically small in number. Examples of a specialty series are Small Group Personal Training, T'ai Chi, and Yoga with a Chair. You can find a specific class by scrolling down or using the quick links listed below.
T'ai Chi
Yoga with a Chair
Small Group Personal Training
---
T'ai Chi
T'ai Chi is an ancient martial art uses slow, flowing movement and postures to increase balance, strength, focus, energy, and grounding. Based on simple but challenging principles of movement, it lifts the spirit and calms the mind. T'ai Chi is not just exercise; it is a way to move through life!
T'ai Chi is a progressive series.  As you progress though the 37 posture short form, Cheng  Man-Ching style, new postures will be introduced. Students will build upon the short form postures while continuing to practice the basic principles. Upon completion of the form, students continue to make adjustments, implement basic principles and practice form correction.  Each of the sessions is 60-minutes in length.
Typically, Body Moves offers four levels of T'ai Chi under a 12-month contract. Under current circumstances with the coronavirus, we are offering two levels, basic and advanced. Click here to see our current t'ai chi classes. Registration is limited. Please visit or call the studio (319-337-4777) for more information or help with registration.

t'ai chi BASIC
Monday's from 5:30-6:30PM

t'ai chi ADVANCED
Thursday's from  5:30-6:30PM
---
Yoga with a Chair



Yoga with a Chair is a very gentle form of yoga which works the muscles and joints to increase flexibility, mobility, strength, balance, energy, and relaxation without having to get up and down from the floor. There is an emphasis on breath work as a method of relaxation and focus.
The exercise of yoga encourages proper breathing, improved posture, and light form of meditation. It has been known to help with reducing blood pressure, improve circulation, quicken recovery from injuries and surgery, and improve sleep. It is a pleasurable way for people with physical limitations to experience the overall well -being of the body, mind, emotions, and spirit. It also helps to firm and tone the body.
The class is perfect for anyone with physical limitations who wants to find an adaptive form of yoga as well as those wanting to learn about yoga and basic poses either for the first time or as a refresher.
Body Moves offers Yoga with a Chair once a week under a 12-month contract. Class size is limited. Please visit or call the studio with any questions or to register at 319-337-4777.
YOGA WITH A CHAIR 
Wednesday from 10:30-11:30AM

---
Small Group Personal Training



The two fastest growing trends in wellness are Functional Fitness and Small Group Personal Training, and they are popular with good reason!  Together they help people achieve necessary changes to enable them to live active, full, and satisfying lives. Our Small Group Personal Training Program focuses on Functional Fitness.
What is Functional Fitness? It's an exercise program designed to enhanced performance in day-to-day, real-life movements and activities.
In personal training, you meet with your trainer and small group twice a week for 7–12 months. More than just strength training and cardio exercise, our program begins with an initial assessment to address your health concerns, including screenings of your upper and lower body strength, cardio-respiratory level, balance, agility, and flexibility; as well as your current daily health behavior practices that help and interfere with you staying on a wellness track. Your trainer and group members will work with you to achieve your goals for greater health, fitness, and wellness, while also paying strict attention to the ACSM (American College of Sport Medicine) Exercise Guidelines for overall adult wellness and fitness.
During this program, trainers Cathryn Lucas and Holly Carpenter will design individualized workouts for you based on your needs and aspirations.  Our trainers are experienced in working with adults who want to lead active, vital lives. They know that people generally underestimate what they can accomplish in overall functional fitness and wellness and will evaluate your progress throughout the program to lead you to reach realistic goals.
This is a program designed for long-term success and lifestyle change. Research positively supports small group training for social and motivational support. Small group training also allows for personalized training that is affordable. It is the best of all worlds in fitness programs!
What you do in this program will surprise you and will positively impact you both now and later in life into your 70's, 80's, and 90's.  The rewards of being in this program are priceless! Call us at 319-337-4777 to reserve one of the five spaces in a training group.